NO NO NO… SAY IT ISN'T SO! How can this be?
After a whirlwind thirty-seven-year career, blessing us with elegance, style and creation, the show has come to an end.
Mrs. Carolina Herrera, the 79- year-old Venezuelan beauty took her last bow during spring 2018's New York Fashion Week in February.
But whatever you do, don't use the word retirement!
Mrs. Herrera stepped down from her New York City based company and immediately assumed the new role as brand ambassador of the company she started in 1981. Wes Gordon who has been her creative consultant for the past eleven months is now creative director of the brand.
From gorgeous flowy couture gowns to menswear and fragrances, the brand has evolved and forever changed the fashion industry. The style has always been the cornerstone of chicness.
Mrs. Herrera's designs are easy to recognize from afar with impeccable detail, silhouettes, embellishments and signature bows.
She has represented American fashion for first ladies including Michelle Obama and her gowns have been worn on red carpets by the likes of Renée Zellweger and Lucy Liu.
Ironically, this wasn't always the career path Mrs. Herrera had in mind. She had a conversation in the early 80's with legendary Vogue Editor, Diana Vreeland who encouraged her from being a fabric designer to a collection designer. Need we say, Thank you! The next stop was having samples made in Caracas for a runway show in 1980 that led to rave reviews and landed her on the top designers list.
I've had the privilege of working backstage the past four years during NYFW. The runway shows allow designers to share their best work each season with the world.  The hard work and dedication, not to mention perfection, is indescribable. Designers live by a motto and Mrs. Herrera's is no exception, "I have a responsibility to the woman of today- To make her feel confident, modern and above all else beautiful." We love that she's so relatable to women throughout the years!
One thing is certain, Mrs. Herrera isn't going anywhere anytime soon. She isn't retiring only moving forward. Anything she touches turns to gold. From her bridal collection, jewelry and eyewear this is one designer to keep your eye on. As the saying goes, the best is yet to come!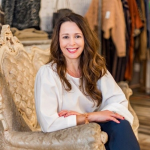 Denise Sharek is a certified image consultant and personal stylist based in the heart of New York City.  For more information visit her website at: https://www.denisesharek.com/