In recent years I have pondered one of Life's great mysteries and that is: why do I love red velvet cupcakes ?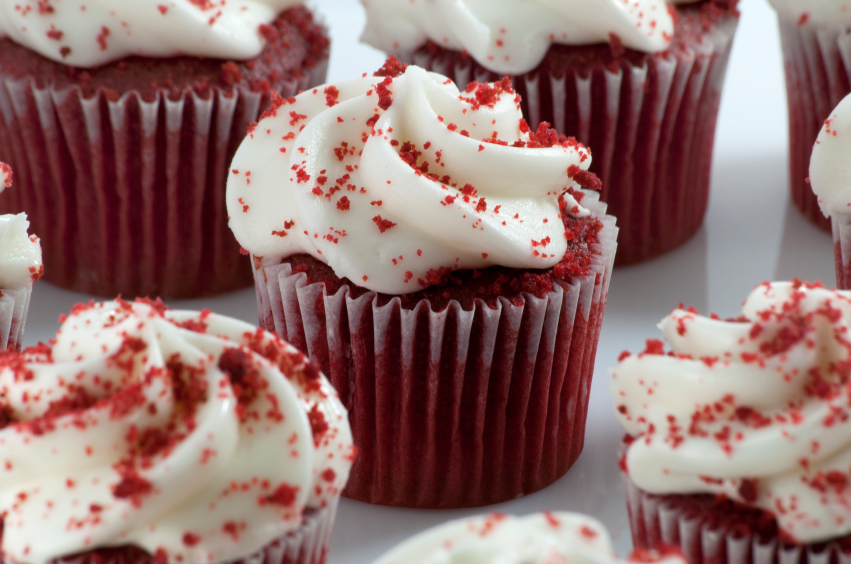 Perhaps it's the highly attractive visual that is mixed with mouth-watering dough and luscious frosting.
This just about says it for me.
Would this do it for you ?
The world renown red velvet cake is a type of chocolate cake with a red-brown color and has a cream cheese style frosting.
Other notable characteristics are, that It's all about the texture.  And, I never knew the cake contains buttermilk.  Plus, there is a whole science required to understand the interactions of the ingredients that effect the results.
Note that too many versions of the red velvet contain red food coloring to hold the color. More on this later in the article.
As a Wellness Queen (one of my nicknames lol ) I usually prefer to eat healthy food.  That said, I do like delicious fun food.  And the operative word is fun.  We all need fun.
So everything in moderation and let the fun out !
Cake time.
I eat a red velvet cupcake as a controlled substance.  Especially when I am near my favourite outlet – then no more than only one per week.  I hope.
It is a type of craving that comes and goes. When desire comes, I am easily lured by the attractive bakery displays and the memory of it melting in my mouth.
I have done this red velvet tango in any city, any bakery – I am not prejudiced to experiment.  As and when the red velvet jumps out at me – how can I resist?  I have sampled red velvet desserts in Kuala Lumpur, Doha, San Francisco, Tokyo, Riyadh, Abu Dhabi, Dubai, Singapore and onward.  No visa required at bakeries ☺
Back Story
Indeed, there is a history behind the red velvet cake with a number of stories that date back to the nineteenth century, then World War II and the Great Depression.  Red velvet cake has been featured in several movies in the USA and India, James Beard wrote about it, the cake became well known at New York's famous Waldorf Astoria Hotel, Eaton's, Harrods, and many others.
Basically it is considered a Southern recipe – meaning the cuisine of the Southern United States.
I don't know about you but…. when I think over it…cupcakes were from my childhood. It has a nice homey memory.
The Red Part
On the other side – ignorance is bliss – they say.  As I had not even thought about the red food color dye. Don't laugh too hard – I almost am falling off my chair as I write this.  I have been focused on the taste treat and not the 'how to make'. My eyes easily gravitate to the yummy frosting versus the red color.
We still want our cupcake and so there has to be a more natural color but still remain a shade of red as was in the original recipe. For me, I don't require a flaming red color. The chefs in this article have done their due diligence to solve this challenge, as you will read.
Considering that red food color has been cited as a potential cancer-causing agent – I recommend to choose to stay away.
What's a pastry chef to do ?  The bottom line is to find a natural substitute for chemically created red food color.
Nowadays
In the last years, the fundamental red velvet cake recipe has now morphed into cupcakes, cookies, cheesecakes, pancakes, red velvet in a jar, and red velvet milkshakes.  With many more variations out there.
For the sake of experimentation, I tried the red velvet in the jar.  Super sweet and rich.  It might take a running marathon to burn off the calories – or so thought my waistline.
Another time I found myself face to face with a Cheesecake Factory which I had not been to in years. I tried their red velvet cheesecake – for the sake of trying a double header of indulgence.  Naaa – it didn't do it.  Really and truly.
What do the experts say?
I am confident that I have sufficient credentials as a foodie enjoying the end product of the red velvet desserts craze worldwide. That said, I have never baked it.
Time now to go to the source of pure culinary advice. So, I asked two of my respected colleagues to weigh in on this subject.
I am delighted to introduce you to two professionals who live and breathe tasty treats and visual delights as their calling.
Chef Nouel Omamalin http://www.chefnouel.com was born to a close family in Southern Philippines where food was not only a basic but a heritage. Fast forward to an impressive first international stint at the Burj Al Arab in 2005. Chef Nouel has received his accreditations from Lenotre, Paris, specialized studies at the French Culinary Institute in New York City, trained at the esteemed Ecole Valrhona in France, and more. Chef Nouel has been serving a growing list of the world's who's-who: presidents, celebrities, and icons. He also embarked on other avenues such as consultancy and training, and assisted a number of businesses in the Middle East and Australia in developing menus and formulating recipes. In 2013 Chef Nouel joined Etihad Airline as in-flight chef. And now behold – the excellent culinary adventure continues with Nouel's Nifty Chic Baking – as he shares recipes of his fanciful but surprisingly accessible creations in his soon to be released book.
I put a few questions to Chef Nouel:
Are you thumbs up or down on the red velvet dessert craze?
Chef Nouel:
Do I like it? Yes! One, for the velvety texture, and second, because it tastes a little sour and earthy and when combined with a good cream cheese frosting it is almost like biting into a cheesecake.
What do you think of the alternatives to red food coloring such as hibiscus flowers, red beet juice, pomegranate juice and others?
Chef Nouel:
In recent times I have purchased a natural red food color powder in France – and guess where it is rendered from? Beetroot. Hence, beetroot seems to be the best source of natural red color. Which brings me to the thinking the powdered form may not lend any "beetrooty" taste as opposed to a freshly pureed beetroot which most bakers detest but purists rejoice.
I hear you make a mean red velvet cookie.  Tell me more – what inspired you…is it sandwich style or frosted or…
Chef Nouel:
I thought mine is the real deal – not just adding in loads of red food color to draw in the interest of people with red-velvet eyes!  It respects the science behind the production of the red color.  One caveat:  it's not that bright a red because it mainly relies on the interaction between ingredients and the natural red color of beetroot.
It is simply your proverbial cookie – baked soft and chewy (the way I prefer it) and studded with yoghurt white chocolate chips, if I get my hands on them in my travels. I generally like my treats simple and less sweet. It is a hard feat balancing my being a health conscious chef and being a pastry chef.
Thank you for taking the time from your busy schedule as you are in the middle of your book launch.  Do tell about your new book and when it arrives?
Chef Nouel:
My book is a celebration of the years of experience in various hotels and countries. It is deeply rooted from the classical teachings realizing that more and more new chefs are losing their grips of the core discipline of pastry and bakery. The kitchen is transforming year after year in an unfavorable way, in my opinion. Budgets are continuously trimmed down and culinary decision-makers are forced to resort to "shortcuts" (pre-prepared doughs, cake mixes, manufactured garnishes, etc.). The breed of real pastry chefs is dying.
This book brings forward a fresh interpretation of classical recipes adding twists and echoing my personal preferences vis-à-vis flavour combination.  One will notice a strong Mediterranean/Arabic influence.  However, I wanted different cuisines to be represented as this is a testament to my world travels.  What makes it interesting is the chapter wholly devoted to the job of a flying chef!  Yes, cooking at 36,000 feet and at cruising speed.  It is definitely worth a read!
I am hoping to get this book out mid of this year
I also checked in with Chef Ben Starr http://benstarr.com who knows the anatomy of red velvet cakes and the history of this dessert, to the letter.
Ben started cooking at age 4 on a sheep farm in West Texas, and hasn't stopped since. He has appeared on the Rachael Ray Show, on MasterChef with Gordon Ramsay, and worked with celebrity chefs like Bobby Flay.   Chef Ben has traveled the world across 7 continents, learning to cook in family kitchens in dozens of countries.
One of Chef Ben Starr's culinary projects is FRANK, http://frankunderground.com    an underground, private dinner party experience where MasterChef Season 2 finalists Jennie Kelley and Ben Starr invite you into their storied world of travel and food. Location for these parties is near downtown Dallas.
Chef Ben celebrates life and food with a vast knowledge including our subject today.  He has masterfully created a natural red velvet cupcake without the color and keeping the integrity. Thereby another confirmation that it is possible.
The photo below and comments are courtesy of Chef Ben Starr.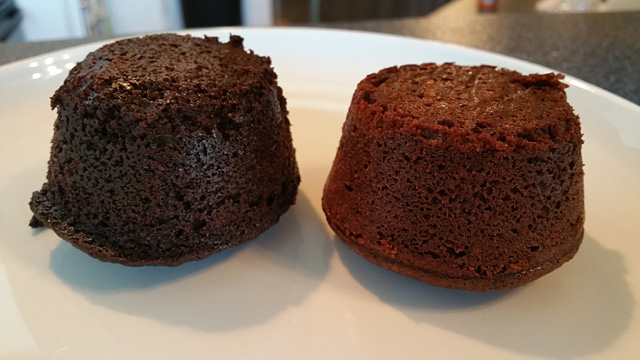 Red Velvet Cake with NO food coloring or beet juice, at right, next to a normal chocolate cake on the left.  The red color might not be noticeable without this frame of reference.  This is under incandescent lighting and has not been altered.
Is it red?  Yes. Is it crazy-neon-sign-crime-scene red? No. Why would you want it to be?  This color comes from natural reactions between natural ingredients.  No color editing on this photo.
The red velvet craze marches on.  
Today in our modern world you can have your red velvet baked as gluten free, sugar free, with no artificial red coloring.  If you wish.
But ohhh  noooooo – the world has not stopped with such mundane choices.  
Behold this insane offering.   
I read about it and I do not believe it:  
Red Velvet Fried Chicken – pieces of savoury chicken soaked in red velvet cake batter, then deep fried in an original red velvet breading. Served with cream cheese mashed potatoes & cocoa-infused slaw.
I will try this – sometime – and report back in. 
It is a journalist's duty.