You may have heard this saying: that 'life imitates art'.
The notion that an event in the real world was inspired by a creative work.
On the other hand – it can be said that 'art imitates life'.
The observation that a creative work was inspired by true events.
I say that life imitates life.
This being a sub-set theory of a blend within a perspective on life.
A viewpoint with the edges not so defined.
And why not let worlds merge together ?
It is a bit similar to the great American architect, Frank Lloyd Wright with his concept of 'bringing the outdoors inside". A unification of a space.
And a Zen concept that everything is interconnected.
The following stories of two fashion pieces are just such examples.
In the first example of Architectural Camouflage – the boundaries are blurred.
And in the Fall piece – this is a hands-on simulation of nature within a response to the environment.
I enjoy very much this blur of reality.
Snarkitecture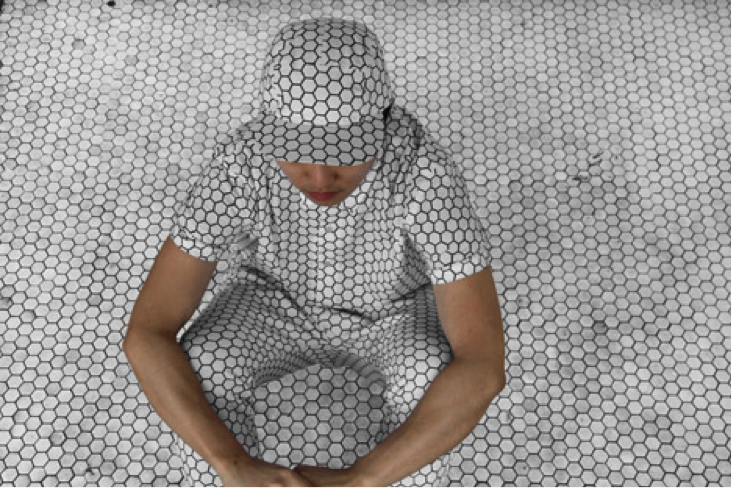 This new series of apparel uses allover prints of white building materials that allow the wearer to blend into their architectural surroundings.

Designed by Snarkitecture and made by Print All Over Me, the first release of this series includes subway tile, marble, and hex tile all printed at a 1:1 scale on a range of wearable PAOM pieces.
Architectural Camouflage allows the wearer to create moments of confusion through interaction with the built environment.
Snarkitecture is a collaborative and experimental practice operating in territories between art and architecture. The company was established by Alex Mustonen and Daniel Arsham.
The name is drawn from Lewis Carroll's The Hunting of The Snark, a poem describing an "impossible voyage of an improbable crew to find an inconceivable creature."
Snarkitecture's approach focuses on the viewer's experience and memory, creating moments of wonder and interaction that allow people to engage directly with their surrounding environment.
By transforming the familiar into the extraordinary, Snarkitecture performs the unexpected.
Here is a link to the projects under the Snarkitecture brand – it is creativity at its finest.
Fall: Responsive Living Fashion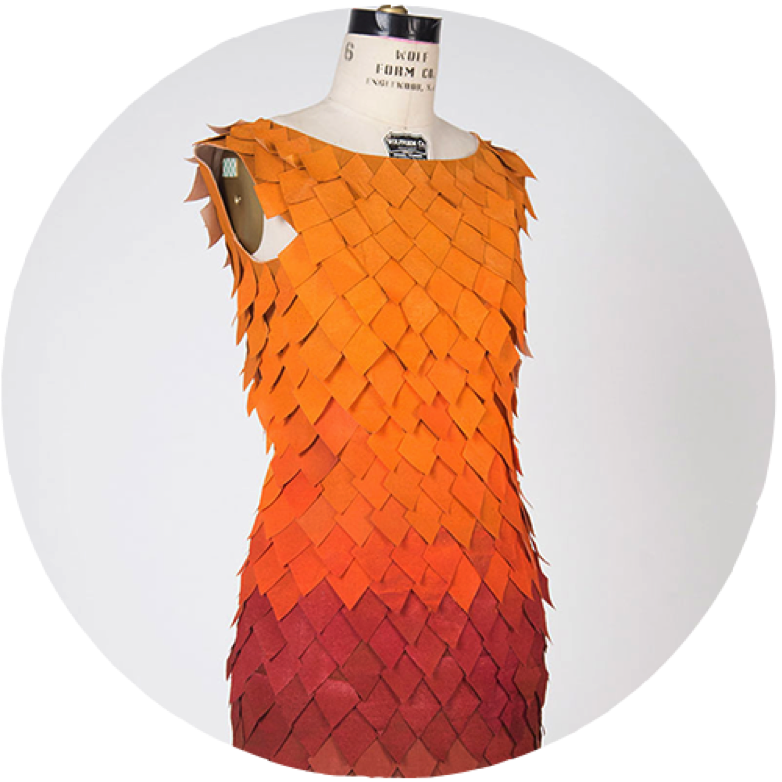 Fall is an interactive garment that mimics nature's responsive systems through hidden electronic mechanisms.
The behavior of the garment is inspired by nature's seasonal behavior of defoliation, the process through which trees naturally lose their leaves.
The piece reacts to the simulated use of surrounding environmental factors.
The objective is not only to augment a garment's functionality but also to use its qualified technology as an instrument to create an expressive interactive piece.
Fall along with other exciting fashion pieces are created by Birce Özkan.
Born in Istanbul, Birce studied Design and Technology at Parsons. Her work and projects concentrate on discussing the interactivity on the body, combining technology, fashion, science, politics and art.
Her focus is to create pieces of wearable technology that are inspired by nature and change in response to its environment.
Birce believes that her fresh type of interactive fashion works can open new ways of creating wearable technology not just to serve a functional purpose, but also to create artistic, performative and expressive pieces.
She strongly thinks that her work brings another perspective to the human body and to fashion.
Instead of being death cloth, fashion can be "kinetic, dynamic and almost living expression of our unique experience with nature.