The timeless elegance of a crisp white blouse.
I feel very put together – well dressed and stylish when I put on a well fitted white blouse.
This got me wondering….so:  to get further into this topic I decided to put some questions to my friend and respected colleague NYC Image Consultant & Personal Shopper, Denise Sharek.
I am delighted to introduce you to Denise Sharek. 
In her words:  I am a certified image consultant and personal stylist based in the heart of New York City. I studied image consulting at the Fashion Institute of Technology and now provide my services to women, men, and corporations. My mission is to use fashion and style to help clients achieve looks that make them feel more confident and beautiful.
I recognized early in my career that people who wear garments that fit well and are flattering have more confidence and are typically the ones getting promotions at work. This fuelled my passion to educate others on how to dress expressively but still appropriately in the workplace and in social settings.
I'm committed to my clients and work closely with them to achieve their goals whether it be a promotion at work or personal lifestyle change. I listen carefully to my clients' needs and find the right styles through assessing body types, face shapes, and skin tones.
I'm privy to all the latest styles and colors by working at New York's Fashion Week for the past seven seasons, which allows my clients to have an insight into all the latest trends.
My opening comments to this interview:  Your business aside from the expertise and joy – does have a science to it.  I appreciate that you are clear to your clients by showing them that the image they portray does make a difference.
Where does white fit into this equation?
Denise Sharek:  
White is the new black as the color took a sharp turn this year within the fashion world. Here in the U.S., it used to be that we followed the golden rule of not wearing white before Memorial Day and after Labor Day. That's a very long eight months to not have white in our wardrobe.
Thanks to social media, these rules have been crushed and white is now acceptable all year long in variation and moderation. YESSS!
Is a white shirt a wardrobe basic?   
Denise Sharek:  
Absolutely, a white shirt is anything but basic. White dress shirts for men and women alike still rule as the dominant power shirt to wear with a suit. It's not only classic but brings power to any pantsuit from board meetings to power lunches. A great white shirt also looks great paired with jeans or dress pants. One can never have too many white shirts as it's the quintessential piece to any wardrobe and season.
Do you prefer a certain style?
Denise Sharek:  
As an image consultant, I seek out styles that are unique and standout. I love white blouses with small details or prints that add character to the outfit. Often it can be stitching or even button details. The classic V-neck t-shirt continues to be king for the past two years. Instagram and Pinterest continue to wow us with glam photos of white tee's being paired with jeans, scarves and bold accessories.
Speak about the fit.
Denise Sharek:  
I can't say enough about fit. The "fit" is EVERYTHING! If the fit is wrong, the entire outfit doesn't work. Often garments that fit incorrectly can make one appear larger than they actually are. Wearing clothes that fit appropriately show you are polished and will also make you feel more confident. Invest in key pieces and have them tailored as needed.
Is white a seasonal color to wear?
Denise Sharek:  
Yes, white is a seasonal color. Seasonal colors vary with one's skin complexion, ey, and hair color. There are many shades of white to choose from. Your winter wardrobe can be softened with winter white and ecru shades or brightened by whiter hues. White looks great with camel and brown colors during the winter months. Don't be afraid to wear white all year long.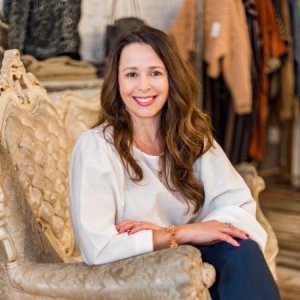 Is white a flattering color to use for most women?
Denise Sharek:  
There's a science to color for certain. Most women who have darker undertones or olive skin, typically, look better in white.
Women who have lighter skin tones can often appear tired or washed out. That's where a bright scarf or accessories will complement the overall look. Adding a bright colored tote or bag to white instantly says you've arrived!
---