Futuristic and spectacular — the Shinkansen in all its perfection is the only way to travel in Japan.
It is a must on your visit and I can't wait to have another experience. The Bullet Train also called the Shinkansen is the high-speed rail network in Japan. I guarantee that you will have unforgettable experiences by using this world-class brand.
What To Expect on the Shinkansen
Efficiency

Safety Record

Punctuality

Quiet

Comfort

Very Clean

Helpful staff

Speeds reaching up to 320 km/hr

Train announcements made in multiple languages

Food carts, bento box choices, meals, vending machines
---
FUN FACTOIDS: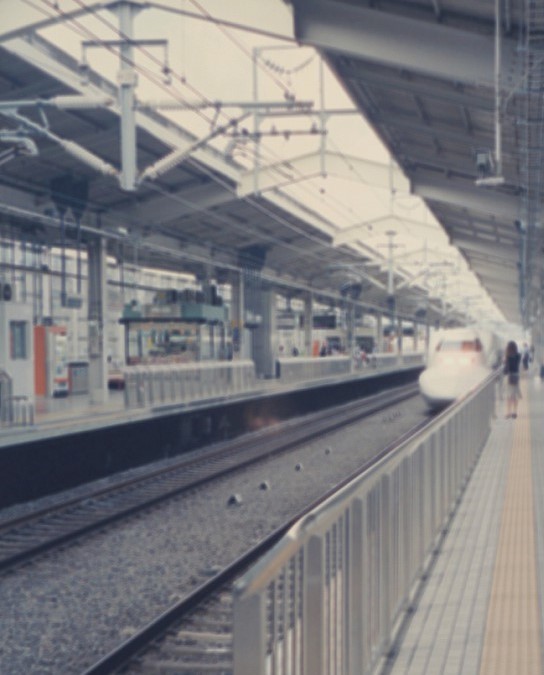 Japan was the first country to invest in a high-speed railway.
The Tokaido Shinkansen, the O series, began service October 1964, ready for the first Tokyo Olympics.  At that time, more than 3,200 cars were built with a maximum operating speed of 220 km/hr.  Later in 2008 – this series was canceled.
Many new series and models were put into service in the subsequent years.
If there is a deviation from the running time schedule of the Shinkansen – it might be as late as 54 seconds.
Is the Shinkansen the fastest train in the world?  No – the Shanghai Maglev is currently the fastest train in the world.
My Experience on the Shinkansen – Bullet Train of Japan
I traveled from Tokyo to Kyoto with an estimated travel time of 2 hours 30 minutes.
It was beyond smooth! My friend and I put a coin vertically on its edge on our food tray table. The coin did not fall over or bounce – for quite some time. The coin stood up straight – suspended there and did not move. Amazing balance.  
The trip felt relaxed and you certainly don't feel the speed. Wonderfully smooth for such high speeds.
There is plenty of leg room. Impeccable. I love it.
I can't wait to go again on my next visit to Japan.
Tips for smooth riding on the Shinkansen:
You need to be on time.

Trains never arrive early.

Book your seats in advance to secure your preference of car.  

If you go by a Mt Fuji view – find out which side of the train is best.

Seats are all face to the direction of the train to avoid motion sickness.  Seats can be rotated to other direction.  

There is not much space for luggage. There exists a luggage forwarding system to purchase and it's very convenient.

Let's go – who gets the window seat?
{feature image credit: TokyoCheapo}
---