Positive thinking and images – it's an attitude thing!
But, they are also a pillar of self-care and are crucial for your wellbeing.
The Ageless Wellness Lifestyle Method that I use as the foundation of my Health Coaching Programs focuses on maintaining a regular routine with balanced meals and adequate quality sleep to stabilize a person's unique physiology or homeostasis.
Let's look at your mindset regarding caring for yourself.
You're in charge of imprinting your subconscious with thoughts and images that will improve your level of stress and enhance your quality of life.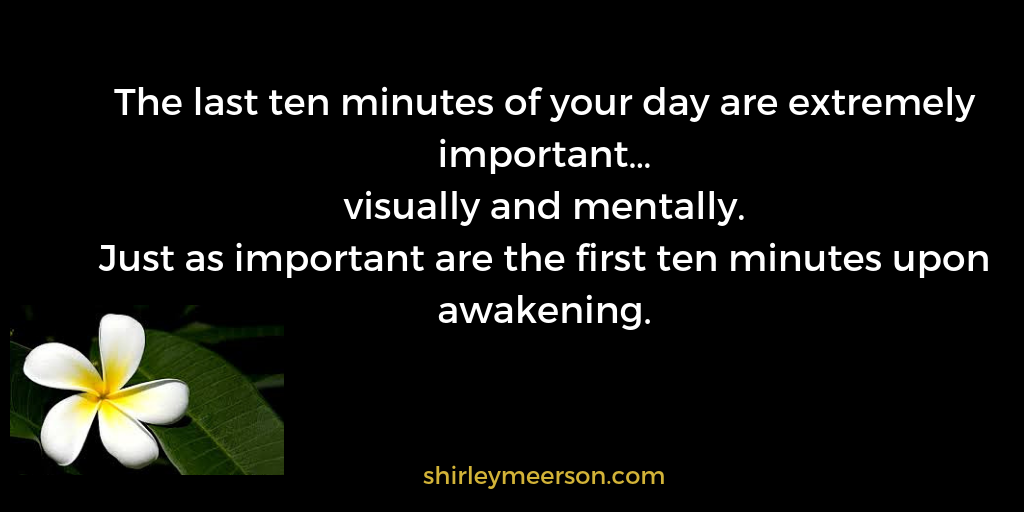 My quote here goes further by focusing in and encourages you to form habits to maintain a positive experience before you sleep, as well as upon waking in the morning.
Make this a part of your daily self-care schedule to consciously insert this positivity practice at those special times of the day.
Positive thinking needs to be a part of your "mindset toolbox", but don't go all extreme on this.
I'm not suggesting that you beat yourself up for any or all negative thoughts. Don't fight with them!
However, there are times for you to stop and relate to the outcome of negative thoughts. Not a pretty picture. Not much value.
Your mind is a garden and your thoughts are the seeds.
Grow, live and surround yourself with a positive environment. Plants need it, but how about us humans?
Try it and experience the results.
We all have seen the instructions on airplanes that tell: 'in case of emergency put on your oxygen mask first before you help your children or others.' It is a similar situation although not an emergency.
Take care of yourself first.
Caring for yourself is not any self-centered act either. It's mandatory. It's wisdom.
When you feel good and fit – you can do the work you were meant to do and to create and function well here on Planet Earth.
The above quote is a reminder of self-healing and visualizing – to love yourself and practice gratitude.
To set the tone for your precious sleep time and to program positivity for your day upon waking in the morning.
The message is simple. Do it. Use it.
Because this is an act of kindness for yourself.
Wellness Wishes Always,
Shirley
---
If you're interested in learning more about the Ageless Wellness Lifestyle Method
~ and my unique approach to Health Coaching for people of all ages
BOOK A VIRTUAL COFFEE CHAT TODAY!
---